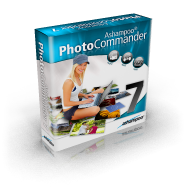 Again Ashampoo's product? yea! it is because this is the latest (not newest) release of Photo Commander series. Ashampoo Photo Commander v7 can be obtained free. The reason is very soon they are releasing v8. There are many articles in which I have shared the Getting Free info about Ashampoo Photo Commander v6.xx. An now there is no problem in getting free v7 because it is latest at the moment and free.
This is 18th article about Ashampoo products promo. Ashampoo runs a huge promotional campaign. At one website you are getting Ashampoo product free and on the other website the same product is being sold for $30.
I could share new registration links but will not. The
OP
deserve the credits:
Techno360
. There are more than 10 registration links in the same sequence. Others can try to find.
Ashampoo Photo Commander 7
is an all-in-one application for organizing, editing, sharing and presenting photo collections with additional audio and video playing and management capabilities. All the photo editing tools you need are included. Enhance your images with the one-click optimizer. Remove the red-eye effect, adjust colors, contrast, hue and many other parameters, resize, crop, rotate, add a wide range of special effects. After editing you can then use the integrated creativity tools to turn your photos into slide shows with music, web albums, photo collages, calendars and more.
3D hardware acceleration for a big speed boost
Much faster and more flexible media database
Virtual albums (Favorites) for better organization
Stitch images to create panoramas
Quick slide shows with cool "Ken Burns" effect
New digital camera and scanner importer
New advanced media search features
Find duplicate images with different names
Print multiple photos on a single page
1: Open the following web address into your browser and fill a simple form asking your eMail (I am supposing you already have ashampoo account and if you do not have account, the process described below will help you to create a new account).
http://www2.ashampoo.com/webcache/html/1/trial_step_1_6819_2_USD.htm
(web address copy n paste)
2: On the next page, you will be asked your password to Ashampoo account. After login, you will be able to find your license under My Free Keys in left hand bar.
Create Ashampoo Account:
You do not have Ashampoo account and wanna create one? If you are a new person to Ashampoo, after filling and sending your email during the registration process (step 1) of Photo Commander 7, you will told on the new page that a confirmation eMail has been sent.
Open your eMail and confirm your account by opening the confirmation link into eMail. You will be asked some basic info like name, email, etc. Just enter these details and submit. You will be taken to your Ashampoo account where you can see your license for Ashampoo Photo Commander v7.